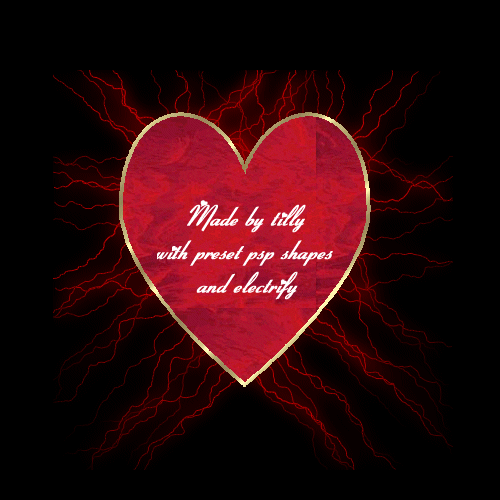 Here is a quick tut on how to use the Electrify filter from the alien skin xenofex 2 plugin, if you have it, if not it is a pay plugin with several filters, including the Constellation, Lightning and puzzle, you can get a trial version here..
http://www.alienskin.com/xenofex/index.aspx
Lets begin, this tut was created by myself on feb 15th 2010, in psp7 using a preset heart shape, however it should work in all versions..

1..open a new image in psp size as required..

2..goto preset shapes and choose a shape, set the foreground and background to colours required, adjust line width if needed, i used a heart with gold texture as foreground and a red texture as background. draw your shape on your new layer and then convert it to a raster layer..see fig 1 and 2.
Fig 1.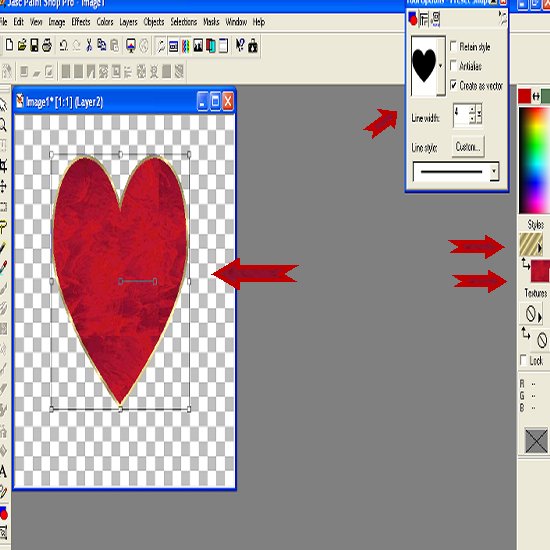 Fig 2.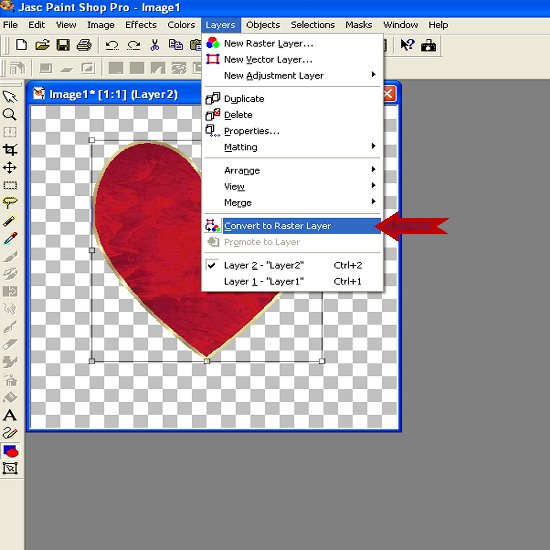 3..Now goto effects scroll to alien skin xenofex 2 and click the electrify tab.. see fig 3..
Fig 3.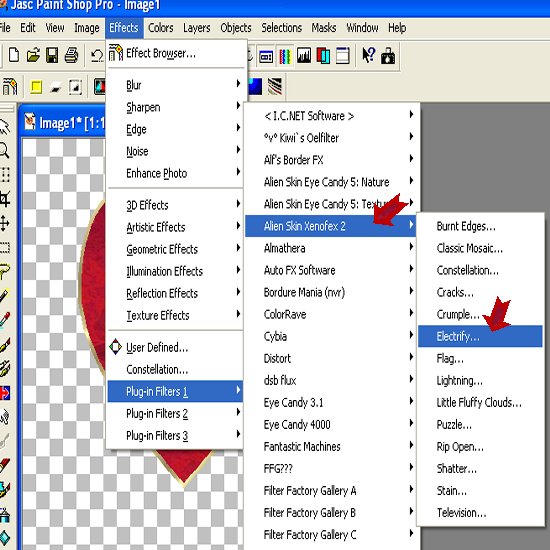 4..Now in the electricfy adjust all settings as required, you may want to fiddle with the spacing, thickness, random seed, or even change the glow to what ever colour you desire..or use my settings.. see fig 4 and 5..
Fig 4.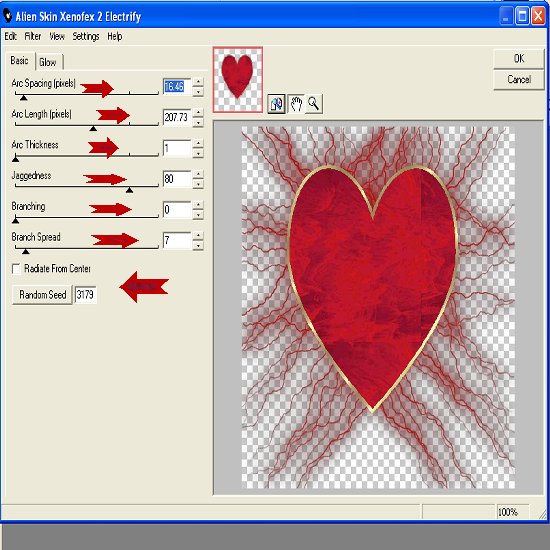 Fig 5.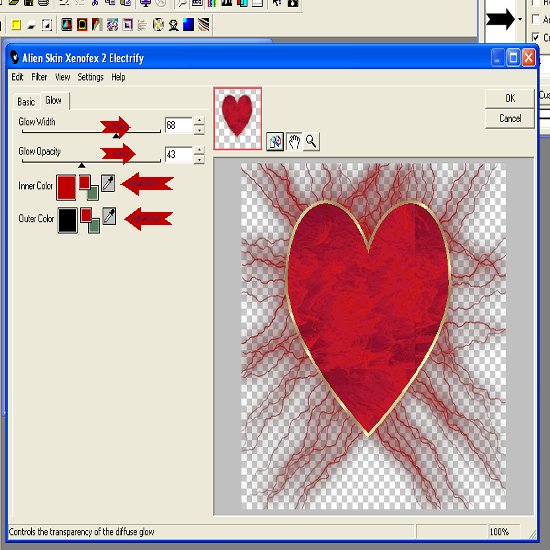 5..goto edit and copy this then open animation shop and paste as new animation..see fig 6 and 7.
Fig 6.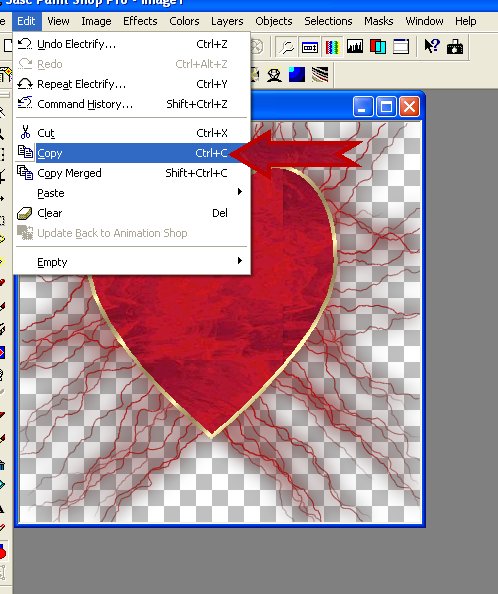 Fig 7.
6..go back to psp and use your back arrows to undo the electrify, then goto effects and click on electrify it should be the last used filter, now dont touch any settings this time just click the random seed, you will notice the electrical charge changes or moves, when happy click ok see fig 8..
Fig 8.
7..now click edit and copy this, take it to animation shop, make sure the frame you pasted earlier is highlighted, goto edit and paste then paste after current frame, you now have 2 frames in animation shop..
see fig 9..
Fig 9.
8..repeat steps 6 and 7 as many times as you want to get a good effect, (making sure the last frame you pasted is the one that is highlighted each time before pasting after the current frame), Then view your animation, ive only used 4 but you can use less or many more just depends on your taste.. see fig 10.
Fig 10.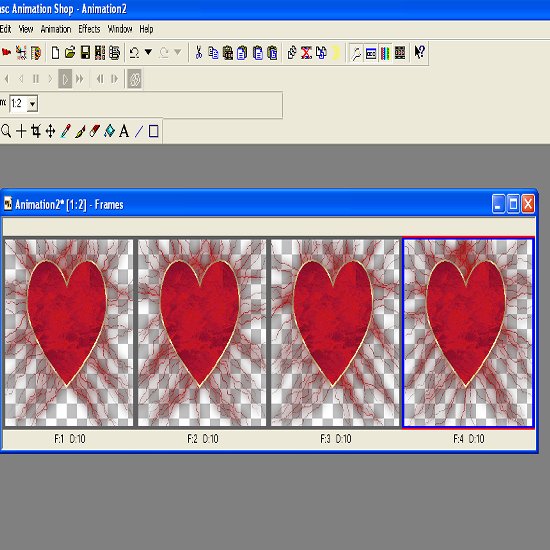 9.. now if you are happy with this and are using a shape or and element, goto file save as and name it then save it as an .mng file so you can use it at a later stage on a made up tag.. see fig 11..(mine shows as gif, i saved my screen shot to quickly so just use the little arrow at the end and scroll to the .mng and save..)The reason you save it as an .mng file and not a gif is because animation shop is not great at transparent gifs, you tend to get ugly extras or blurs etc unless it has a background..
Fig 11.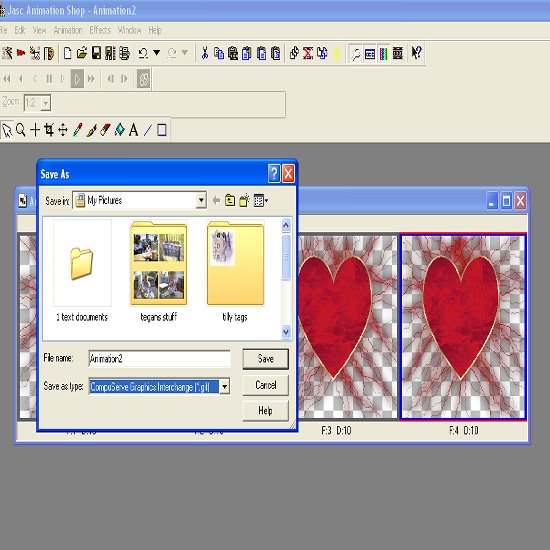 this can then be copied onto a tag at a later stage..

If you want to electrify an area of your main tag such as round a head, arm, leg, box, and so on, all you do is use your lasso tool point to point and draw round the area you want to use, follow the same steps in 4 to 8 altering settings in the filter as desired. and make sure you merge visible any layers before copying over to animation shop, use the back arrows to go back and keep doing this until you are happy, with a main tag it can then be saved as a .gif instead.

Your results should look alittle like mine at the begining of this tut, without the black background, i added it so you could see it as forumotion doesnt allow .mng files..
tysm here my go of it

Fantasy

GEM DIAMONDS





Posts

: 228


Location

: new jersey



wow that is very good Fantasy, love the effect you created..

---
Permissions in this forum:
You
cannot
reply to topics in this forum