Gregory Griffin is now a FTU General Artist, which means there are terms of use on the website.. Please read the following information before using this artists artwork.. You can also see all the information and also artwork at this website..
http://griff13.deviantart.com/journal/10422334/
Ok the ToU is up! Thanks to the hard work from all my friends at Griffsart PSP we now have a solid set of rules that will let my art reach new heights of enjoyment. Thanks Gals
If you still have questions email the group here ->
griffenquiries@gmail.com
Griff's Terms Of Use
1. Please use this email for all PSP/tagging enquiries.
griffenquiries@gmail.com
. Greg also has a Yahoo group here ->
http://groups.yahoo.com/group/griffsartpsp/
for fans of his art.
2. Please credit all art used clearly with Greg's name & site.
Gregory J Griffin "griff13.deviantart.com"
3. Greg allows his art to be used for sigtags, websets, email stationery etc but ONLY for non-profit use. If a payment is required to reach and/or use Greg's artwork, then it may not be used there. Nobody may profit or "break even" financially in any way from the use of Greg's artwork. His work may not be used on any site which has a Donation button.
4. Greg requires that his work not be used on any site which promotes or encourages race discrimination or the violation of human rights in any way. Some of Greg's art portrays artistic nudity but it may not be used or changed in such a way that it represents pornography.
5. Do not mix Greg's art with any other artist's work. Stock imagery, accents, scrap elements, posers and other tubes/elements are allowed as long as the original creator allows their use with another artist's work. Experienced taggers will know what is meant by this. If in doubt, mail your query.
6. Minor colour alteration is allowed. Resizing (in proportion) and tubing is allowed.
7. Animation is allowed, on both the background and/or the main image.
8. A very few of Greg's artworks may not be used. These are ones where he has used stock imagery or photography. These pieces are clearly pointed out in the comments in his gallery & most are obvious photo manipulations rather than drawings.
This ToU was written by the Griffsart PSP group and approved by me.
Thanks Griff
The following is a list of images that Griff has asked that we not use.
"Twins"
"One Line II"
"The Dark Princess"
"Tempest"
"A Prayer For Peace"
"Water Fairy"
"Panic"
"Waiting To Be Born"
"But one KISS"
The Copyright would read as follows.
Gregory J. Griffin
griff13.deviantart.com
Please make sure you have this on your signature tags when using this artists artwork..
Here is a preview of some of the tubes and the link to download them.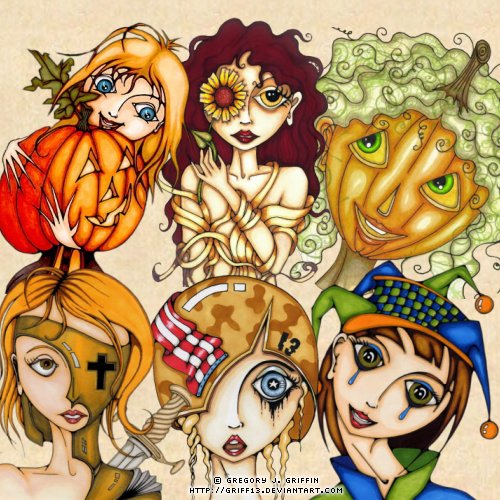 Similar topics
---
Permissions in this forum:
You
can
reply to topics in this forum