Hello all, i recently made a tag using the Rainbow Coffi fountain and made the water glisten..
I was asked to write a tut on how it was done and have finally got round to doing it today..
This tut was written by myself March 14th 2010, any resemblance to other tuts is purely coincidental..It is quite a long process but it gives a nice effect..You will be using Sqirlz water reflections which is a standalone program, it is free to use and can be downloaded from here..
http://www.xiberpix.net/SqirlzReflect.html
also Animation shop 3..
For this example i am reusing the fountain of Rainbow Coffi here..But any image will work the same..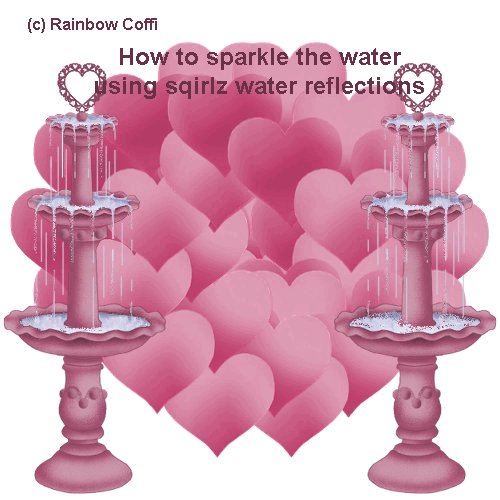 so we shall begin,

1..Add the fountain to a background of choice in psp, i did some hearts and used Mura copies to make them bunch up..then save this infrom psp as a jpeg..

2..open up sqirlz and goto file open and find your fountain and then click open so it appears in sqirlz like this..fig 1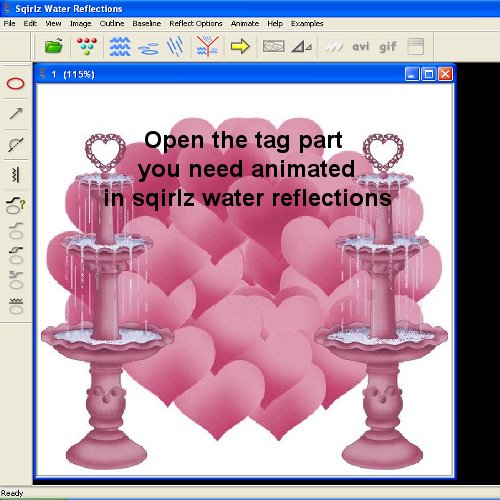 3.. click the red oval and mark an area you wish to animate see fig2.
4.. now we need to set the animation to basic water ripples only for this tut, so click the red Y and make sure basic water ripples has been selected then click ok. see fig3.
5..click on the wavy line water ripples in the navbar and it will open a new box, you will then need to fiddle with these settings, for your desired taste, water strength and texture speckles etc, but always make sure that the transparency button is at a 100%, see fig4 and fig5.
6.. View what you have done by clicking the yellow arrow and if you are happy click ok, if not click cancel, continue adjusting those settings until you are happy, click ok.see fig6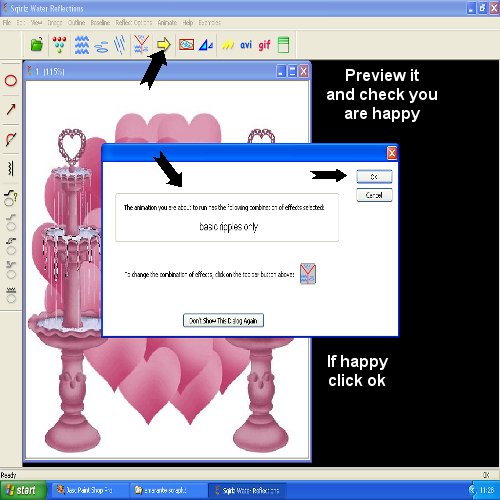 7..once happy we now need to save this as an AVI video animation (the reason for this is because you may want to do several areas and once savedas a gif you wont be able to) So click the AVI button and name it AVI1 then click ok and again click ok on all the following screens.. see fig8 to fig8C..
8.. Now click file and scroll to AVI open and search where you saved the avi1 and open it back in sqirlz see fig9..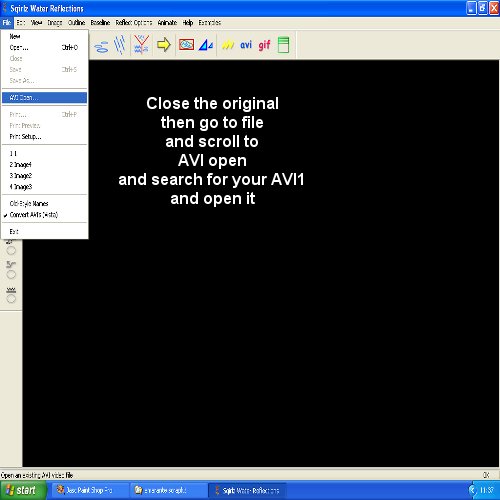 9.. once opened in sqirlz click the red oval and mark another area you wish to animate, once done view it by clicking the yellow arrow and when happy save it again as an AVI, make sure you name it avi2, and click ok to all the boxes that appear. see fig 10..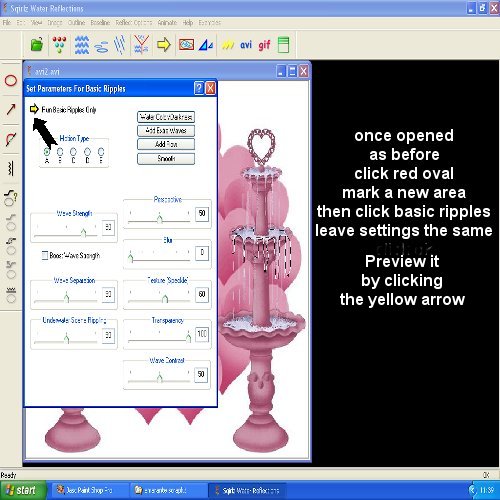 10.. continue animating by following the steps above, until you are doing you last bit, mark your last area and then view it, clicking the yellow arrow.. (remember each time before this point to save as an AVI) once you have looked at it and you like it, and your final area is done this is where we save it as a GIF.. so click on GIF, click ok to the next box, and name it GIF1 and click ok to all the following boxes.. once done close sqirlz and open up animation shop. sig fig11 to 11D..
11..Now open this gif1 animation into animation shop, at this point you can add some elements, a tube, which you have prepared and pasted into animation shop from psp, however the memory on the tag will be quite high over 2.00 MB so firstly we need to reduce this or when viewing in a post it will load slowly.. To do this we need to cull it and also adjust the frame properties.. So with your fountain gif open in animation shop goto edit and scroll and select all.. then click animation and scroll to cull animation, a box will appear adjust this to reduce it by 2 which will leave 10 frames..see fig 12 and fig12B
12... now we need to alter the frame properties or the animation will be to fast, so go to animation and scroll down to Frame Properties and click this to open a new box, adjust this to the desired speed, moving the bar forwards will slow it down and moving the bar backwards will speed it up..see fig13
13... if your happy and now add the extra elements and tube and copyrights and other animations if you wish, then re save as a GIF file and your done (i didnt bother to add any more elements this time for my example.. save see fig14..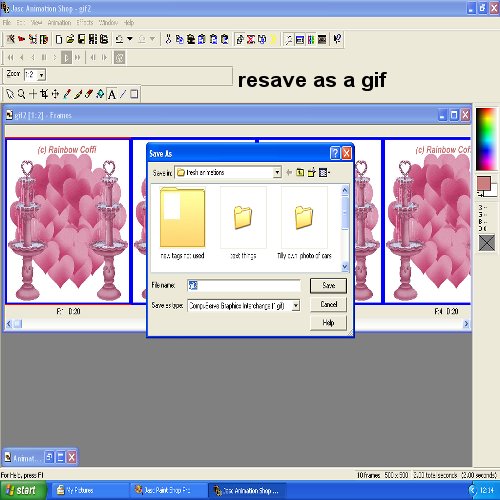 Ofcourse this is a very Basic tutorial on one of the effects in sqirlz, i always find culling in animation shop after its saved will reduce memory, but you do not have to do this, also fiddle with the settings of the ripples as people have different tastes, the more the texture speckles the more it will look like a noise type effect.. heres my example which i'm not overly happy with as i rushed and didnt take care when using my marking of the area so it looks alittle odd, but you can see the overall effect..
Wow Tilly this a great effect..I am gonna download this and try it..I just woke up ..and need my coffee first..but I got an idea in my head..lol ..thanks girl for great tut!

me2la

GEM DIAMONDS





Posts

: 908


Location

: Tennessee



Yay Tilly - Thank you so much for writing this up. I'm going to save it too, so I always have it.

Cheryl

GEM TUBERS





Posts

: 6011


Location

: Ontario, Canada



Your very welcome, I tend to fiddle alot with the texture speckles and wave length to get the right effect, it does change from tag to tag so bare that in mind, plus clicking on the A,B,C,D,E will make a different wave effect, just experiment with these and you''ll soon get the hang of it,after the first saving of the ''AVI'' you wont need to adjust the settings as these will stay the same..

I also always add it to animation shop and cull it down so the memory lessens, you don't have to, just depends on your groups or where you want to post it, my first gif after saving from sqirlz was 2mb but i got it down to 736kb in animation shop after culling so it does lessen it..
Have the program have used it once
or twice you would think with all the
free time I have I would learn to use
it and the others I have more.
Thanks oe the tut Tilly I'm gonna try it.

lj2961

GEM DIAMONDS





Posts

: 590


Location

: Indiana



Your very welcome , i also like the rain effect to and the puddles, but havent had a chance to do much of that at the moment..

---
Permissions in this forum:
You
cannot
reply to topics in this forum